Exhaustive evidence on emissions
Leah Geller
March 15, 2023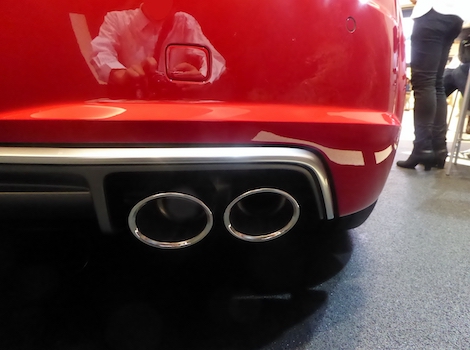 Earlier this year, proponents of stricter diesel emission regulations got some fresh and forceful evidence to support their goal. A ground-breaking Canadian study found that exposure to diesel fumes can immediately impair the human brain.
While diesel emissions are known to increase the risk of cancer, as well as heart and lung disease, this is the first time a controlled experiment has provided evidence of brain function altered by diesel exhaust.
The study showed that just two hours of exposure to diesel exhaust negatively affects how different areas of the human brain interact and communicate with each other. Conducted by researchers at the University of British Columbia (UBC) and the University of Victoria, the study was published in January this year in the journal Environmental Health.
"For decades, scientists thought the brain may be protected from the harmful effects of air pollution," said senior study author Dr. Chris Carlsten, professor and head of respiratory medicine and the Canada Research Chair in occupational and environmental lung disease at UBC.
Cited in a press release, Carlsten emphasized the strong connection between air pollution and cognition. "I expect we would see similar impacts on the brain from exposure to other air pollutants, like forest fire smoke. With the increasing incidence of neurocognitive disorders, it's an important consideration for public health officials and policymakers."
Canada encouraging cleaner diesel
Diesel exhaust contains a mixture of gases, such as nitrogen oxide and sulfur dioxide, which are known to be harmful to humans and the environment. Diesel engines also release diesel particulate matter, made up of soot, polycyclic aromatic hydrocarbons, and metallic abrasion particles, all of which can be breathed into the lungs.
The power-dense fuel is used in large trucks, buses, and trains because it provides enough torque to pull heavy weights, and has better fuel efficiency than gasoline. It also requires fewer steps for refining, so prices are usually lower than its alternatives.
In Canada, lower sulfur content in diesel is enabling the use of better emissions control technologies, substantially lowering the harmful emissions from its combustion. The country's current standard for sulfur levels was set in 2006 at 15 parts per million (ppm) for on-road vehicles — one of the world's most stringent limits, and a significant drop from the previous setting of 500 ppm.
Canada's new Clean Fuel Regulations, finalized in June 2022, is setting increasingly stringent requirements on producers and importers to reduce the carbon intensity of gasoline and diesel. Carbon intensity is the measure of greenhouse gas emissions associated with the full life-cycle of a fuel, including its extraction, production, transportation and consumption.
For diesel, low-carbon-density options include biodiesel, which is a clean-burning, biodegradable, and renewable fuel made from a variety of feedstocks, such as canola and soy oils. Most existing diesel engines can run on anywhere between 5 percent and 20 percent biodiesel.
Renewable diesel is also made of non-petroleum renewable resources such as natural fats, vegetable oils and greases. However, it is processed to be chemically similar to conventional, petroleum diesel, and can be used in engines that are designed to run on conventional diesel fuel, with no blending required.
In combination with its $1.5 billion Clean Fuels Fund, the Regulations create incentives for increased Canadian production of these and other low-carbon-intensity fuels, with the goal of decreasing emissions and creating economic opportunities for biofuel feedstock providers, such as farmers and foresters.
The Government of Canada estimates that about 2.2 billion litres of additional low-carbon-intensity diesel will be needed by 2030, under the new Regulations.
This is your brain on diesel
The Environmental Health study was conducted at UBC's Air Pollution Exposure Laboratory, located at Vancouver General Hospital, which is equipped with an exposure booth to mimic breathing in a variety of air pollutants.
Researchers briefly exposed 25 healthy adults to diesel exhaust and clean, filtered air at different times in a laboratory setting. Brain activity was measured before and after each exposure using functional magnetic resonance imaging (fMRI).
They analyzed changes in the brain's default mode network (DMN) — a set of brain regions that become engaged together in wakeful reflection, for example, thinking about things that we need to do later in the day, or events that happened earlier. The fMRI revealed that, after exposure to diesel exhaust, participants had decreased connectivity in regions of the DMN.
"We know that altered functional connectivity in the DMN has been associated with reduced cognitive performance and symptoms of depression, so it's concerning to see traffic pollution interrupting these same networks," said Dr. Jodie Gawryluk, a psychology professor at the University of Victoria and the study's first author.
Gawryluk adds that, in the current study, the exposure was acute and they expect these effects were short lived. Future studies are needed to examine repeated and long-term exposure to traffic pollution.
"The study design was very powerful because each participant had an fMRI brain scan before and after exposure to filtered air and diesel exhaust," she explained in an e-mail interview with Research Money. "In this way, we could compare people to themselves in each condition, and this allowed us to draw strong conclusions about the effects of diesel exposure."
R$